No need to count breaths or beats. Record or stream a video of the subject and let computer vision algorithms do the counting and documenting.

As a remote, camera-based solution, Vitacam cuts down on both contamination risks and care miles. Improve staff safety while increasing patient reach.

Vitacam is a CE marked medical device registered with EUDAMED, FIMEA and MHRA, capable of measuring pulse within +/- 5 bpm and breaths within +/- 3 per min.

Respiratory rate and pulse measurements at a glance
Vitacam offers a contactless solution for observing vital parameters in situations where they often go unmeasured.
Vitacam is a software-based medical device, used to measure and report vital signs of a patient. The device measures a patient's respiratory rate and pulse using computer vision and a digital camera.
Vitacam is suited for routine measurements, continuous monitoring or spot checks. The system works either via a mounted webcam or by recording a short video clip on a mobile device running a Vitacam application.
The goal of Vitacam is to detect early deterioration using non-invasive, contactless methods.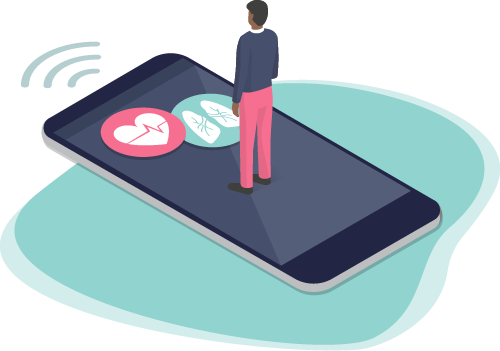 When warning signs go unnoticed
Vital signs play an important role in identifying patients that are at risk of clinical deterioration. While deterioration can often be accurately detected by changes such as elevated heart rate, respiratory rate or decreased oxygen saturation in the blood, a lack of tools, especially at home, means these warning signs often go unnoticed. Notably, people with heart failure may experience changes in both heart rate and respiratory rate as fluid builds up. People with COPD may be in a virtual care pathway where they need to track and report their vital signs at home – but it can be a struggle to measure their own respiratory rate. Deterioration may only be detected once the patient's condition has visibly decreased. This is partly caused by inadequate and irregular recording of vital signs.
Respiratory rate in particular can be inadequately measured and recorded. Manually counting breaths over a minute can be subject to human error due to interruptions and the patient being overly conscious of their own breathing while it's being counted. Standard ECG equipment intended to track heart rate and rhythm is not suitable outside Critical Care units, while pulse oximeters have limitations in those with poor circulation. Furthermore, it can be difficult to palpate a radial pulse manually in frail elderly persons.
While gathering observations of vital signs is a routine task for nurses, healthcare is increasingly taking place outside of clinical settings, such as in private homes and assisted living facilities. In such places, trained nurses may not be on duty or busy with other important tasks.
Vitacam is designed for both spot and periodic measurement in emergency triage, remote monitoring and virtual wards.
respiratory rate measurements
Respiratory rate is a strong predictor of adverse events yet often goes unmeasured. Vitacam eliminates human error often seen in RR observations.

More data, better outcomes. An elevated heart rate can indicate an infection or a response to medication.

Continuous measurements from a live stream or periodic measurements from self-recorded video clips keep you up-to-date on patient condition.

Automatic patient detection and other intuitive features make using Vitacam effortless.

Vitacam can operate on commercially available servers and is clinically validated on a Logitech Brio.
Measurements can be gathered using regular webcameras and smartphone cameras and sent to a cloud for processing.

co-creation with clinicians
Developed in cooperation with healthcare professionals to ensure real-life benefits.

Vitacam is a CE-certified class IIa medical device and its Quality Management System is ISO 13485:2016 certified.
Breathlessness in numbers
Respiratory rate is an early indicator of many serious adverse events yet often goes unmeasured. Vitacam provides you up-to-date RR results on demand.

Breathlessness features in a fifth of all emergency attendances.

Of all measured respiratory rate results, only 36% are accurate.

Of adult population affected
One in twenty adults suffer from breathlessness in their daily life.

Opportunities in Elderly care
Intervene earlier for elderly with cardiovascular conditions

Respiratory rate is often missed despite its predictive power, particularly for those suffering from heart disease or respiratory disease. Vitacam is one of very few tools to measure it accurately. Carers can use Vitacam measurements to consult with nurses and primary care physicians to determine the best course of action, based on their understanding of the subject's history. Early detection means early and more effective interventions.
Opportunities in emergency Triage
Get continuous measurements automatically during a first assesment

Even in clinical settings, there may not be time to count chest movements with a stopwatch, and often a fast visual assessment of respiratory rate is made. The Vitacam application on Windows 10 can measure a subject facing a wall mounted camera, without any user input.
<!—-><!—->
<!—->
<!—->
<!—->
<!—-><!—->
<!—->
<!—->
NE Device SW and Sehat Kahani Announce Their Partnership to Pilot Vitacam […]