Faizan Global Relief Fund and NE Device SW team up to launch Vitacam video measurements in the Madani Healthcare Centre in Pakistan, to triage hundreds of patients daily.
NE Device SW, an innovative medical device manufacturer of software measuring vital signs from video, today announced a strategic commercial agreement with Faizan Globar Relief Fund (FGRF), a leading non-profit organization that provides aid and support to those in need across 51 countries. The partnership enables FGRF clinicans to use Vitacam vital signs monitoring to triage patients attending the new Madani Healthcare Centre, in Karachi.
The service has already been soft launched before Ramadan. It has been used to measure over one hundred patients on average daily. After Ramadan, female patients attending the clinic will also benefit from contactless, non-invasive vital signs measurements. The number of patients measured daily is forecast to exceed 400.
"We are thrilled to enter into this agreement with FGRF and already deliver benefits to their Madani clinic. Their mission to alleviate suffering in the community through healthcare aligns with our goal to offer contactless monitoring to patients who need it. We look forward to a long and successful collaboration with FGRF."

Moyeen Ahmad, NE Device SW CEO
"We are very excited to be partnering with NE Device SW. Vitacam already enables us to triage patients using key vital signs without physical contact. We look forward to a productive and mutually beneficial relationship with NE Device SW."

Rizwan Ahmed, FGRF representative
Vitacam measures respiratory rate and heart rate every 15 seconds automatically from a live video of a patient. Respiratory rate is usually the first vital sign to alter in a deteriorating patient. Timely and accurate respiratory rate measurements with early, effective, and appropriate interventions can vastly improve patient outcomes. Heart rate is an important indicator of cardiovascular health and provides valuable information in the diagnosis, treatment, and management of a wide range of health conditions.
In Pakistan, the prevalence of emphysema and chronic bronchitis (conditions commonly grouped as COPD) is estimated at 13.8% due to smoking and exposure to the burning of biomass fuel. An above-normal respiratory rate and/or heart rate is one of the indicators of the severity of a COPD exacerbation, requiring antibiotic therapy.
Under the agreement, Vitacam will be deployed to two assessment rooms in the Madani Healthcare Centre. The financial terms of the agreement were not disclosed.
Vitacam will shortly be launched in Saudi Arabia, Nigeria and Sudan with NE Device SW international business development partner, Vendor Junction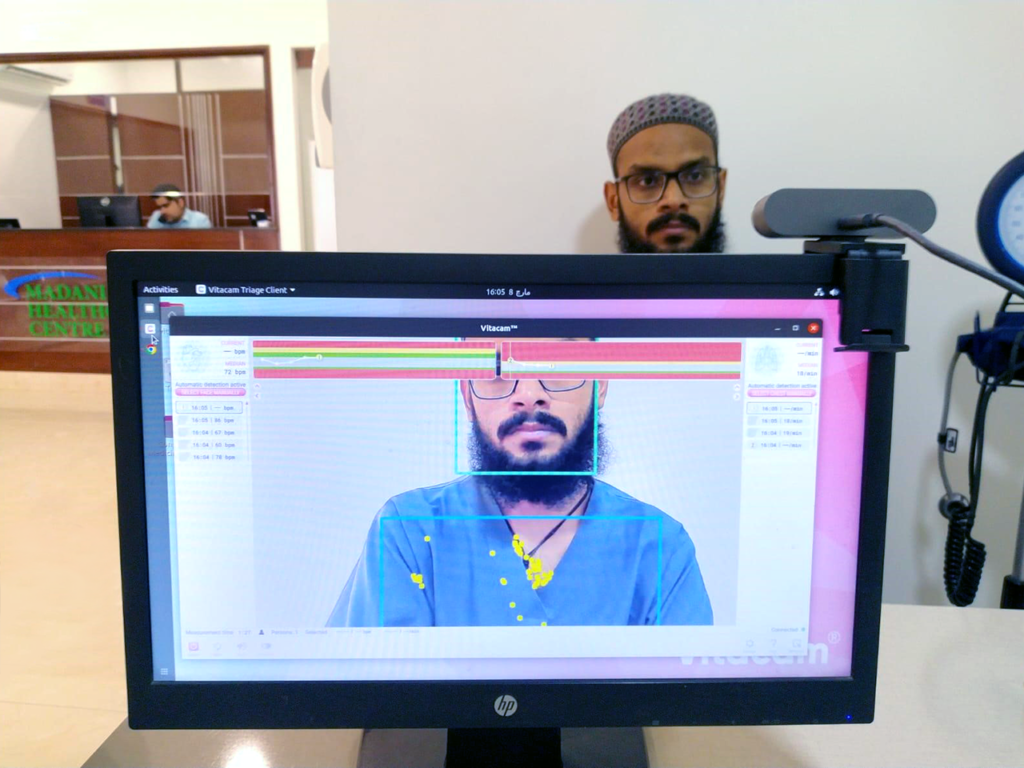 NE Device SW Oy is a software company from Oulu, Finland. It specialises in software for imaging and medical devices. Its flagship product 'Vitacam' uses computer vision to obtain vital signs measurements. It supports healthcare professionals by automating the routine task of gathering observations. 'Vitacam' is a CE-marked class IIa medical device.
Faizan Global Relief Fund is a Philanthropical (Relief) Non-Profit-Organisation working independently in more than 65 countries on Health, Education, Food, Climate & Disaster Relief.
This partnership is facilitated by Vendor Junction, a knowledge-based professional service and management firm specialising in international business development, channel sales ecosystems, and in-country business operations management across the Middle East, Africa, and South Asia for European and U.S. companies.
Headquartered in the United Arab Emirates and with representative offices in the USA, Finland, Sweden, Denmark, Saudi Arabia, India, and Pakistan, Vendor Junction operates internationally with global reach for its clients.
For more information, please contact:
moyeen.ahmad@nedevicesw.com
rizwan.ahmed@awandistribution.com
sayed@vendorjunctiongroup.com